AN INTERNATIONAL NURSE
Francisca has traveled from Africa to Belize to the United States in pursuit of her medical career. "It wasn't an easy thing but I'm tenacious.  I always achieve what I set out to do. So, I came here, I knew what I wanted.  I was able to get a job immediately. I had all the certifications and got my master's degree and then my doctorate."  Her versatile education and clinical experience have earned her the term "international nurse" among her peers.
Francisca grew up knowing how important access to good healthcare can be. "I grew up in Nigeria with three siblings who were born with sickle cell anemia and my family spent a good portion of their lives at the hospital."  Francisca has worked for the last 27 years as a nurse, providing care to clients just like her siblings.
As a nurse, Francisca experienced firsthand how important CPR and other certification instruction can be to saving lives, but she's also seen how inaccessible and impersonal the training often is. "I knew I could do better and teach a friendlier class, so I developed a business plan with the assistance of the SBDC Bronx."
In 2020, working as a nurse in New York and wondering if she was going to survive the worst days of the pandemic, she started Heart Alive Training to train and re-certify nurses, doctors and auxiliary healthcare workers in Basic Life Support (BLS), Advanced Cardiac Life Support (ACLS), and Pediatric Advanced Life Support (PALS) – skills like CPR and first aid. Classes are done in a comfortable and non- threating learning environment. "I wanted to develop my business and that's where the SBDC and Ascendus helped me with technical assistance, and I was able to secure an SBA $5,000 loan." Through the loan, she was able to pay the salary of her single employee and keep the doors of her business open.
WHAT COMES NEXT
Francisca was on the frontlines as a nurse during the pandemic.  She says she had never worked with such an infectious disease as COVID-19.  "I've worked fighting HIV, Ebola, but with COVID, I would go to work saying maybe this is the day I was going to get this disease. Sometimes I didn't sleep. I had a loss of appetite, but I still had to go to work and help people fight it." Francisca plans to retire as a nurse next year and run her business full-time.
Francisca also mentors other nurses, including nurses in Nigeria. She is an active member of the Nigerian Nurses Association and the Orlu Cultural Federation (OCUFE). The association conducts yearly medical missions in Nigeria, helping the under-privileged and those who cannot afford medical care. She is also in the process of launching Francisca Njoku's Foundation to support widows, provide scholarships, and feed those in need.
ABOUT DR. FRANCISCA NJOKU, DNP, FNP-BC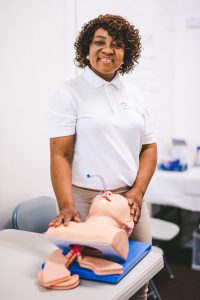 Dr. Francisca Njoku is a diligent nurse, an entrepreneur, and a community health advocate. She obtained her basic Nursing/Midwifery education at the University of Benin Teaching Hospital in Nigeria, where she served in several nursing positions before moving to Belize, Central America. While living in Belize, Dr. Njoku did not relent in pursuing her nursing education, and obtained a Bachelor of Nursing (BSN) at the University of Belize. Shortly after migrating to the United States of America, Dr. Njoku obtained her master's in nursing degree from the City University of New York with a specialty as a Family Nurse Practitioner. She became board certified within a few months of her graduation. She has a doctoral degree from Walden University.
Dr. Njoku's nursing excellence has earned her several positions and awards. She received the best nurse of the year award in 2008, New York nurse of the year award in 2016, and an amazing employee of the year in 2019 in her organization. She is currently working at North Central Bronx Hospital and Mount Vernon Neighborhood Health Center as a Family Nurse Practitioner. Dr. Njoku is an adjunct Professor with the Montefiore School of Nursing. Dr. Francisca is a member of Sigma Theta Tau International Honor Society, New York State Nurses Association (NYSNA), and National Association of Nigerian Nurses in North American (NANNNA), Nigerian Nurses Association of USA (NNAUSA), and American Association of Nurse Practitioners (AANP), New York Nurses Association.