TO OUR SUPPORTERS
Paul Quintero
CEO
Ascendus
Dennis Lagueux
Board Chair
Ascendus
DEAR FRIENDS, PARTNERS AND SUPPORTERS,
In 2017 and the beginning of 2018, we made investments for growth, planting the strategic seeds to harvest mission growth. This began with our five-year growth plan to grow our lending, scaling our reach to the least served populations. We also launched a cloud-based platform to improve productivity, thus better serving our clients' needs. Finally, we redesigned our SBA Community Advantage program, improving turnaround time and positioning us for growth through 2020 and beyond.

In 2018, we deepened our mission impact with the launch of the Entrepreneurs of Color Fund program in July and the Childcare Provider Initiative in October. Through the Entrepreneurs of Color Fund, we supported nearly 100 minority entrepreneurs in the South Bronx with over $1 million in capital.

The Childcare Provider Initiative enabled us to provide $1.3 million to over 100 childcare providers, predominantly women of color in the South Bronx. These women were able to grow their businesses to create a triple social return within their communities through providing early childcare education, enabling parents to participate in the workforce, and providing local jobs.

At $14.8 million, our portfolio is the largest and healthiest it has been in a decade. Our loans are reaching entrepreneurs with limited access to capital and financial education, creating economic opportunity for our clients.

As our investments bear fruit, we continue to make enhancements for future mission momentum. This includes expanding our Childcare Provider Initiative to other East Coast markets, growing our SBA Community Advantage program, and launching a campaign to raise debt capital to sustain the expected growth through 2020. The mission acorns planted today will become a tall forest of impact tomorrow.

On behalf of Ascendus, we want to thank you for your support of our mission. Your support literally makes all our work possible and together, we will continue growing our mission skyward.

Yours in continuously reaching,

PAUL QUINTERO
CEO
Ascendus

DENNIS LAGUEUX
Board Chair
Ascendus
ADDRESSING UNEQUAL ACCESS TO OPPORTUNITY
22% ≠ 7%
Low-income areas are home to 22 percent of workers, but only 7 percent of businesses with employees.

32% ≠ 12%
Minority business owners are denied loans 32 percent of the time, compared to 12 percent for non-minority business owners.

56% ≠ 100%
Women start their businesses with only 56 percent as much financial capital as men.

10% ≠ 100%
Hispanic and black Americans have levels of net worth that are only 10 percent of those held by white Americans.

95% & 87%
95 percent of African American and 87 percent of Latino middle-class families do not have enough net assets to meet most of their essential living expenses for even three months if their source of income were to disappear.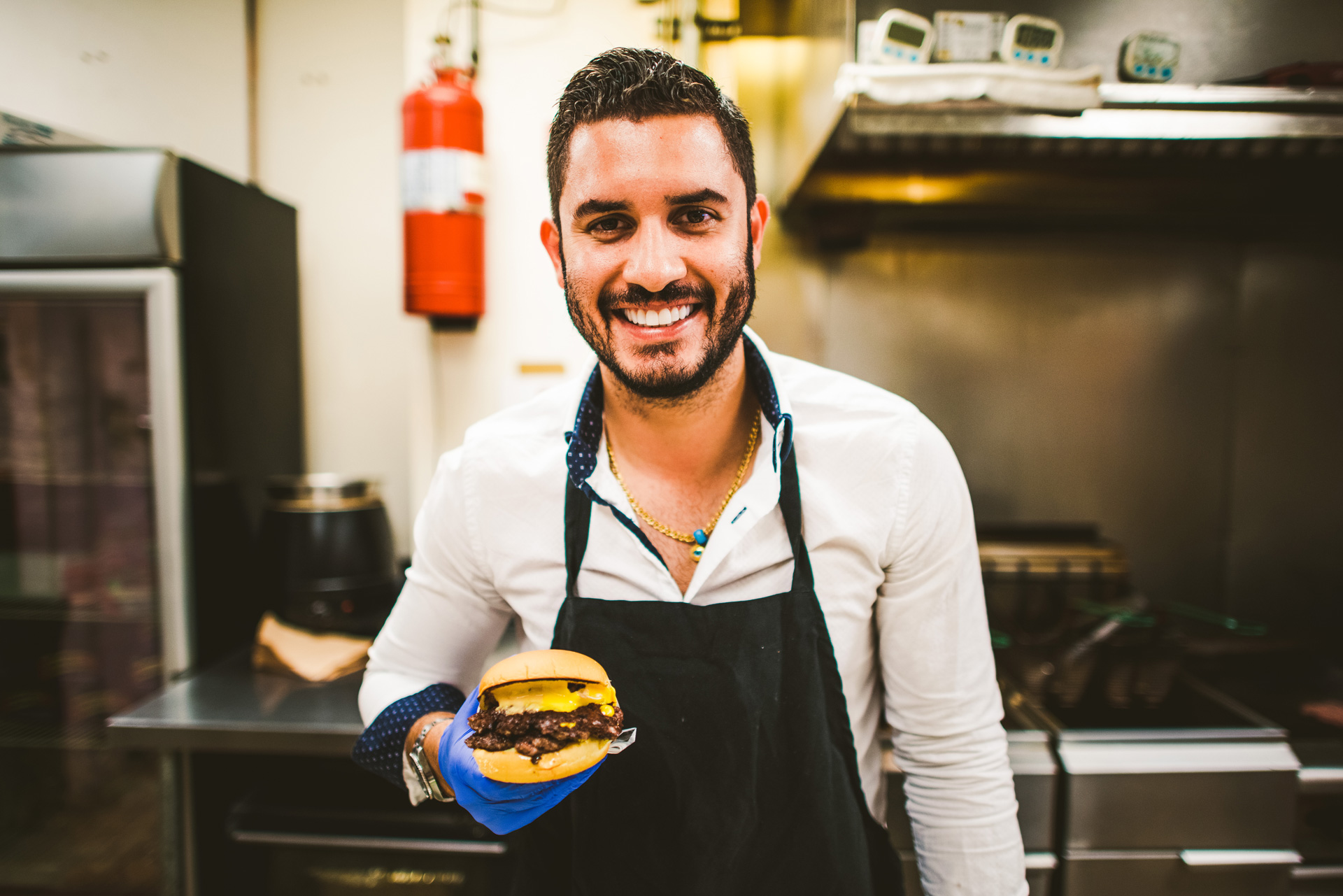 "I believe that if you have a dream, you should dedicate yourself to the end. I'm always looking for the
best way to help and improve my community. With my loan from Ascendus, I was able to open my
third location and hire more employees."
—Angel Benitez, Burbowl, Miami, Florida
OUR MODEL
IT STARTS WITH BRIDGING THE GAP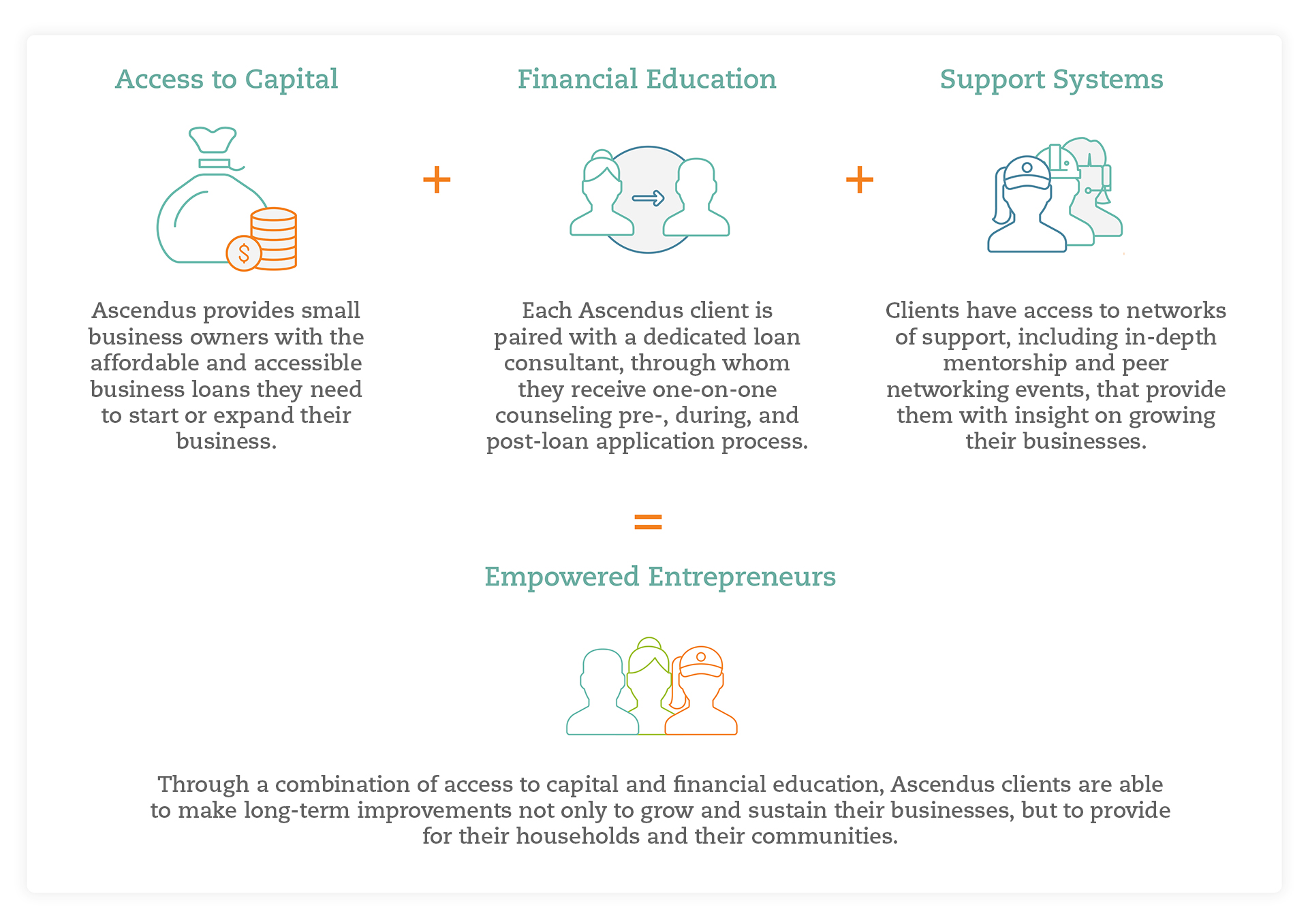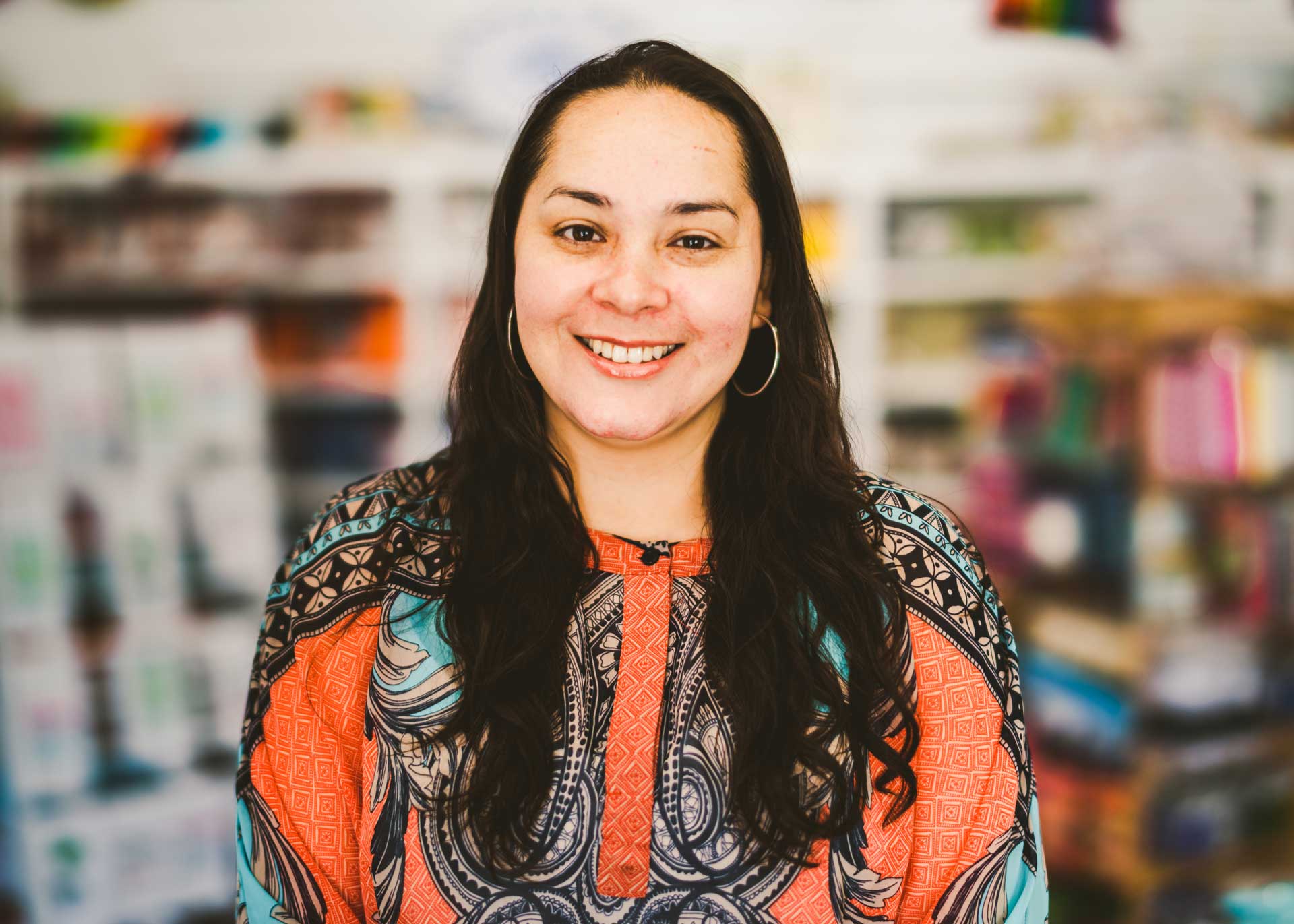 "Our loan consultant went through the process with us step by step. She made us feel really comfortable. Whenever I was nervous about asking a question, she would just put me at ease."
—Paula Dunbar, Paper Fiesta, Natick, Massachusetts
2018 IN NUMBERS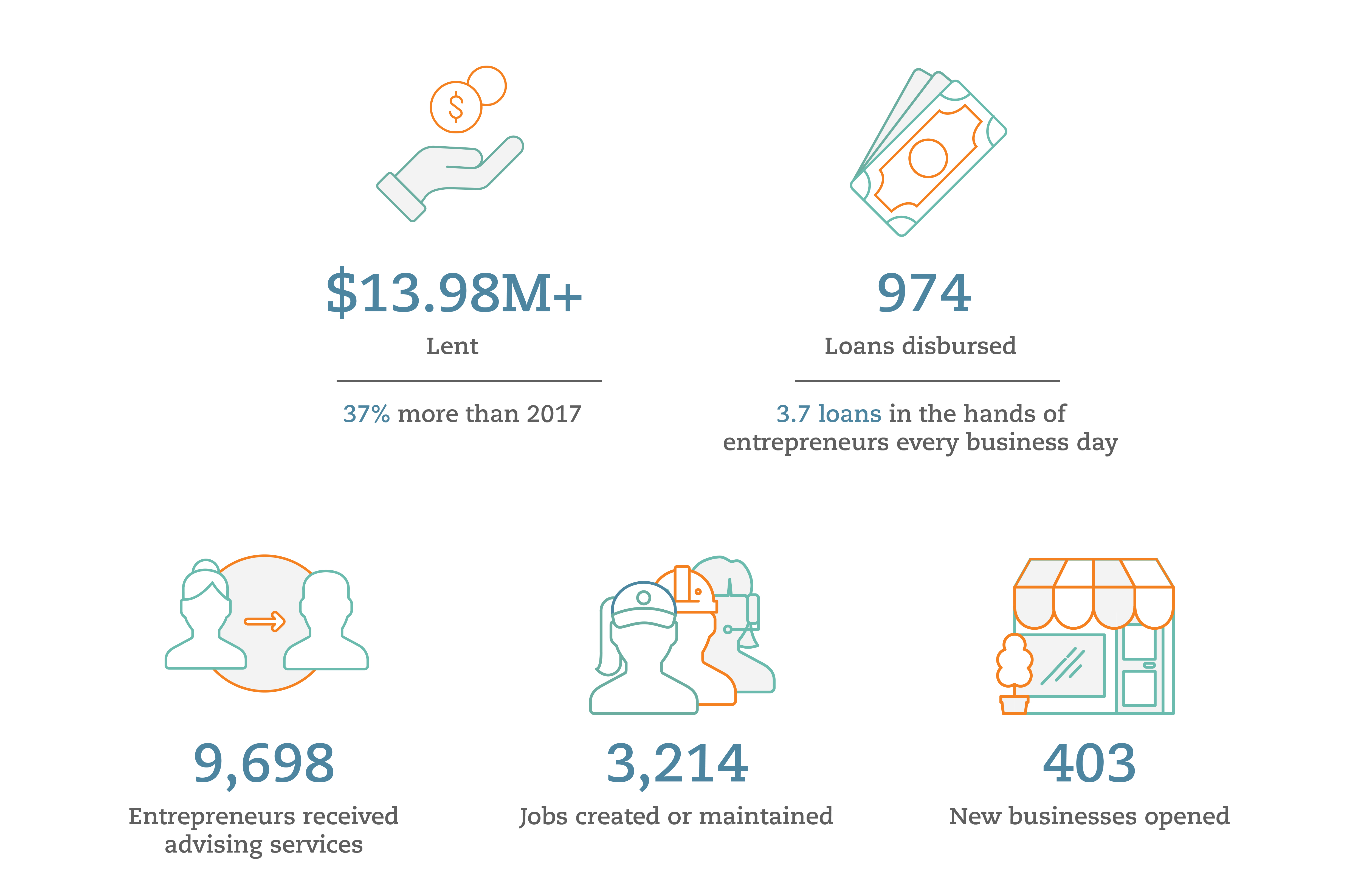 CHILDCARE PROVIDER INITIATIVE
IT STARTS WITH NEEDS-BASED INNOVATION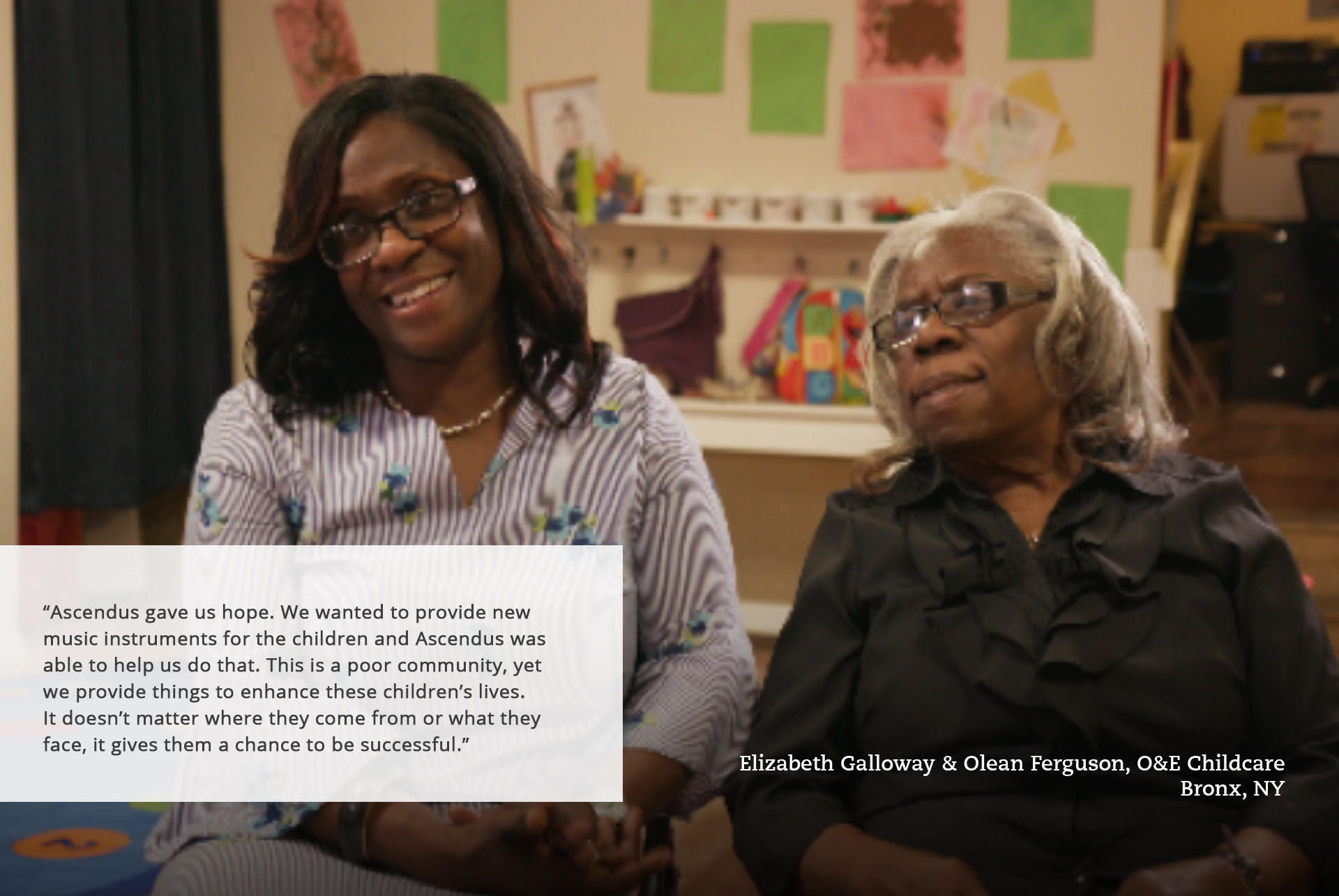 In October 2018, Ascendus launched our Childcare Provider Initiative, with seed funding from Founding Corporate Partner Citi Community Development, to deliver a 48-hour loan program, industry-specific coaching, and bi-lingual direct outreach to childcare businesses in the Bronx.
In just seven months, Ascendus invested $1.3 million in capital to over 100 childcare providers: 98% are women, 97% identify as minorities, and 63% consider English their second language. Over half of our clients operate in the South Bronx.
Clients are growing their businesses and driving a triple social return in their communities: 1,100 children have benefited from early education; their parents are participating in the workforce; and childcare providers are providing jobs for themselves and 200 other staff.
Starting in 2019, Ascendus will expand the program across New York City and to other cities along the East Coast.
Hear Elizabeth and Olean tell their story:

BREWING THE AMERICAN DREAM
IT STARTS WITH AN INVALUABLE PARTNERSHIP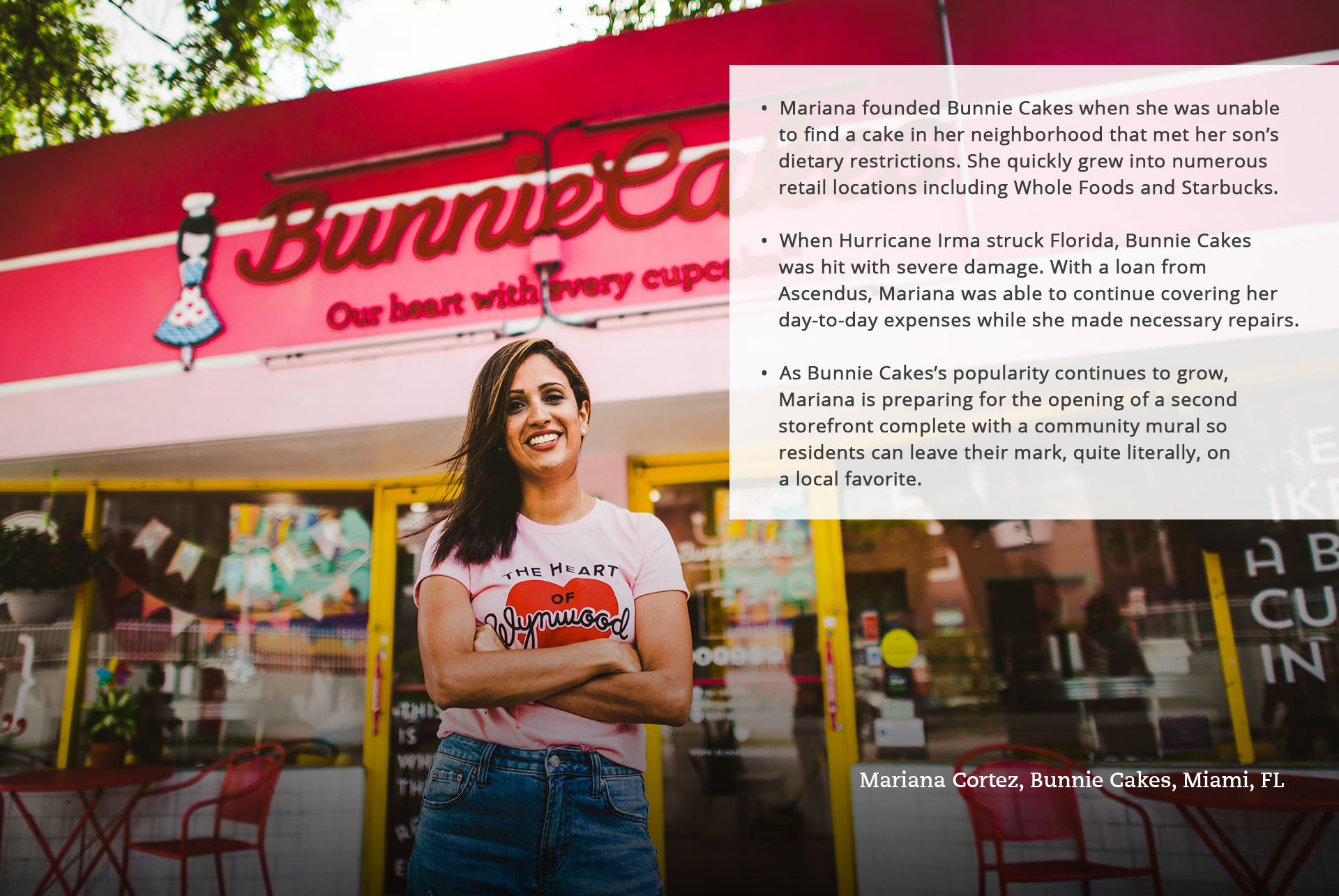 Ascendus and Samuel Adams launched the Brewing the American Dream program in Boston in 2008 to provide unprecedented support and capital access to food, beverage, and brewing small businesses.
In 2018, we provided 71 food and beverage small business owners with $907,560 in capital and 70 entrepreneurs with business mentorship through events at the Sam Adams Boston-based brewery and in New York City.
Over the last decade, Ascendus has provided 630 loans totaling $7.7 million to food and beverage entrepreneurs in communities all along the East Coast, creating and/or retaining approximately 1,950 jobs in their local communities.
A NEW LENDING PLATFORM
IT STARTS WITH INVESTING IN CAPACITY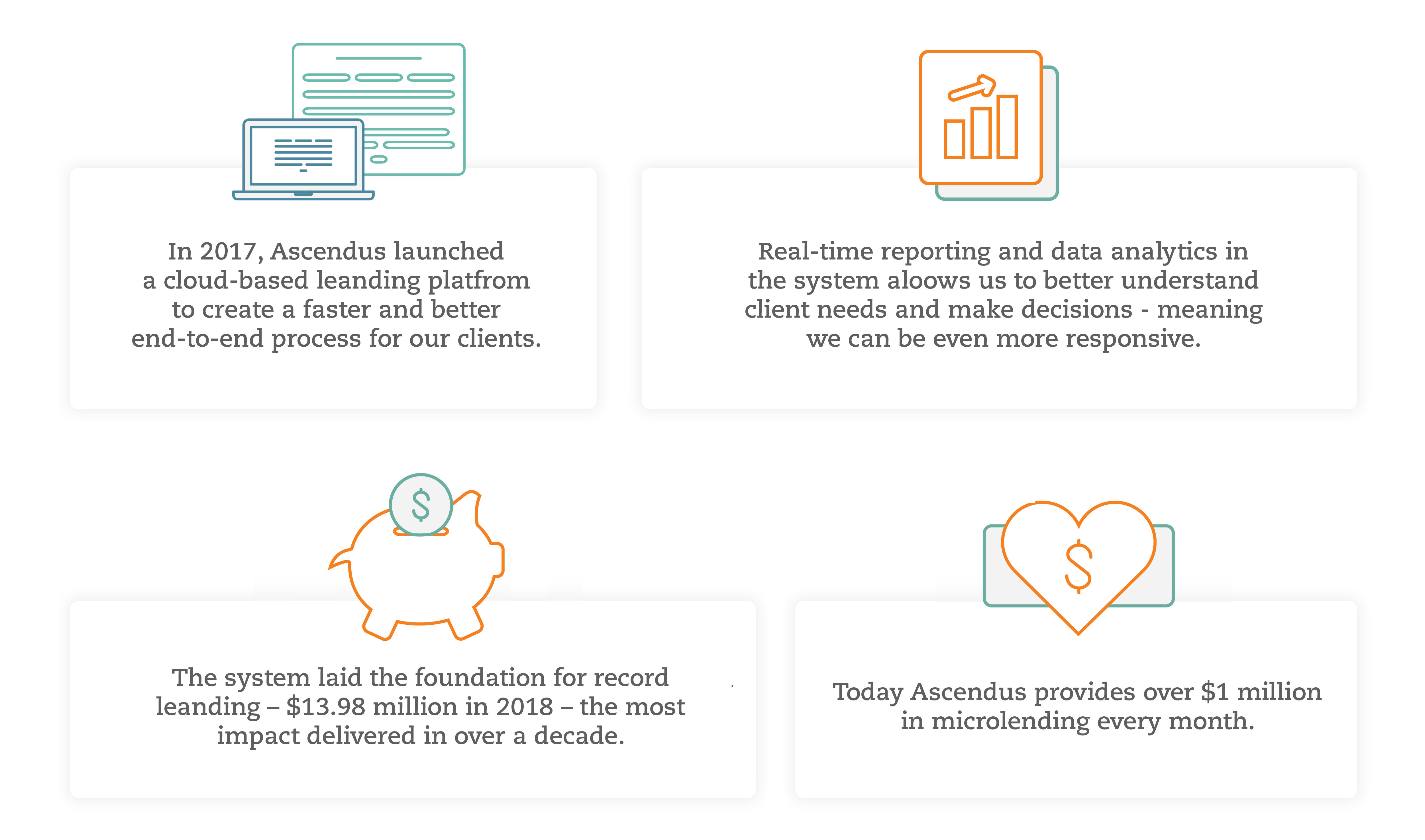 ENTREPRENEURS OF COLOR FUND
IT STARTS WITH INVESTING IN UNLOCKED OPPORTUNITY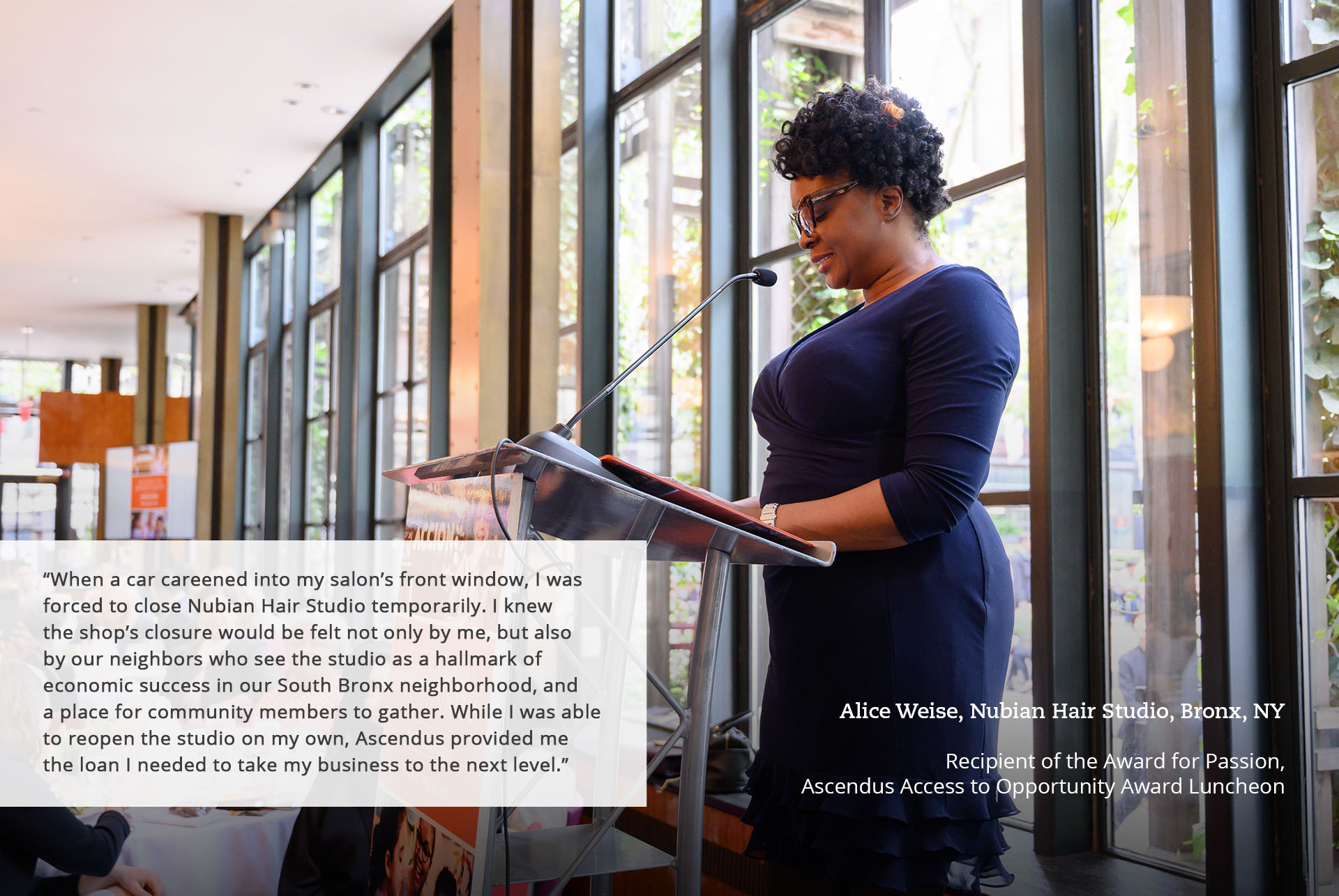 In July 2018, Ascendus partnered with JPMorgan Chase to launch the Entrepreneurs of Color Fund in the South Bronx to address the unique needs of local minority entrepreneurs, providing $556,600 to 49 minority-owned businesses through 2018.
Today, we've invested over $1 million in nearly 100 minority small business owners in the South Bronx through the Fund. These businesses are providing 260 local jobs.
NEW ENGLAND SBA MICROLENDER OF THE YEAR
IT STARTS WITH A PUBLIC-PRIVATE COLLABORATION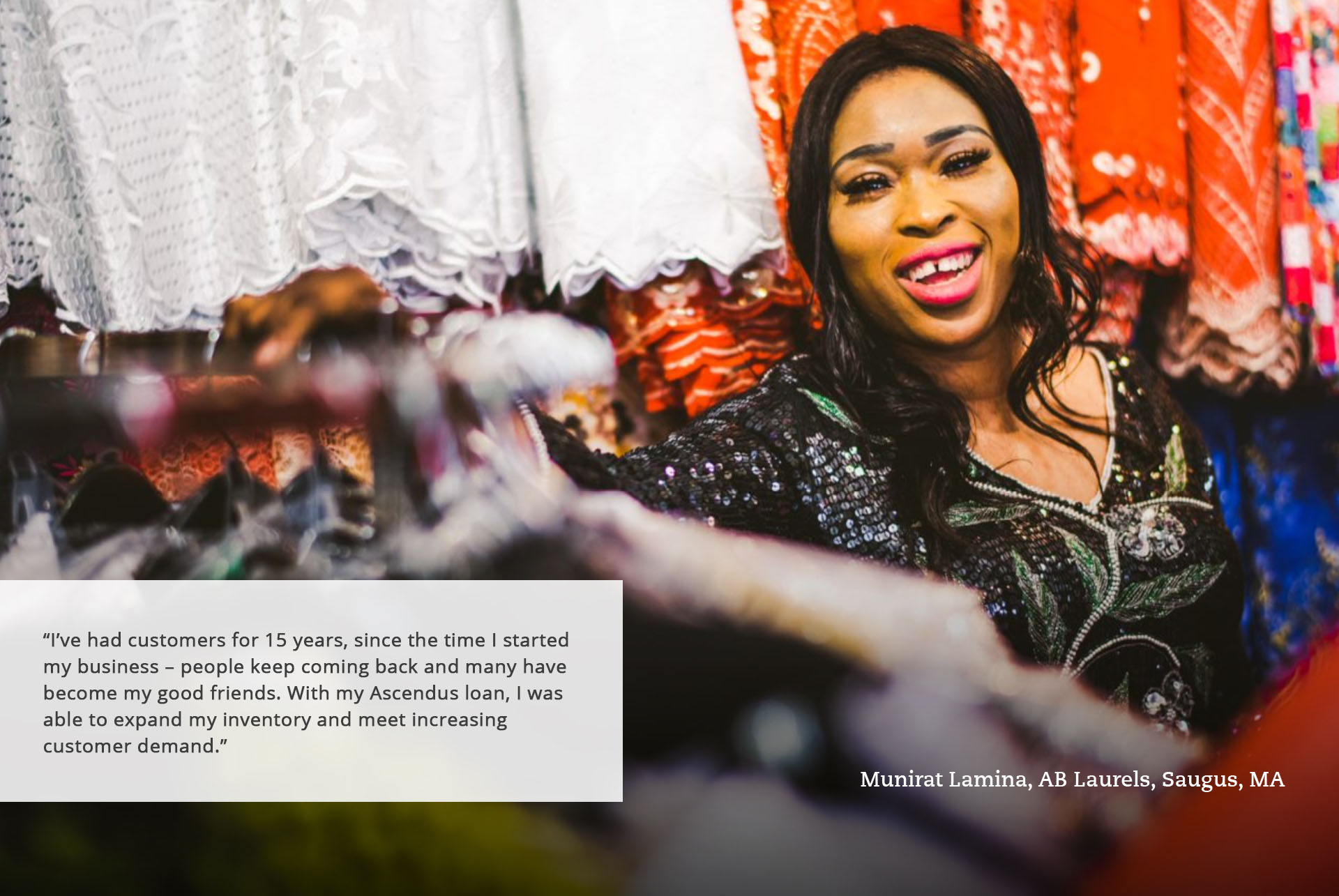 Ascendus was the #1 SBA Microlender of the Year in Massachusetts and New Hampshire in 2018 – for the sixth year and second year, respectively.
We provided more dollars and more loans through our SBA microlending program than any other SBA microlender in either state - supporting 43 small business owners with a total of $640,000 in SBA loans.
In 2018, we provided 192 small business owners with a total of $2.79 million along the East Coast through our SBA microlending program.
15 YEARS IN FLORIDA
IT STARTS WITH PLANTING LOCAL ROOTS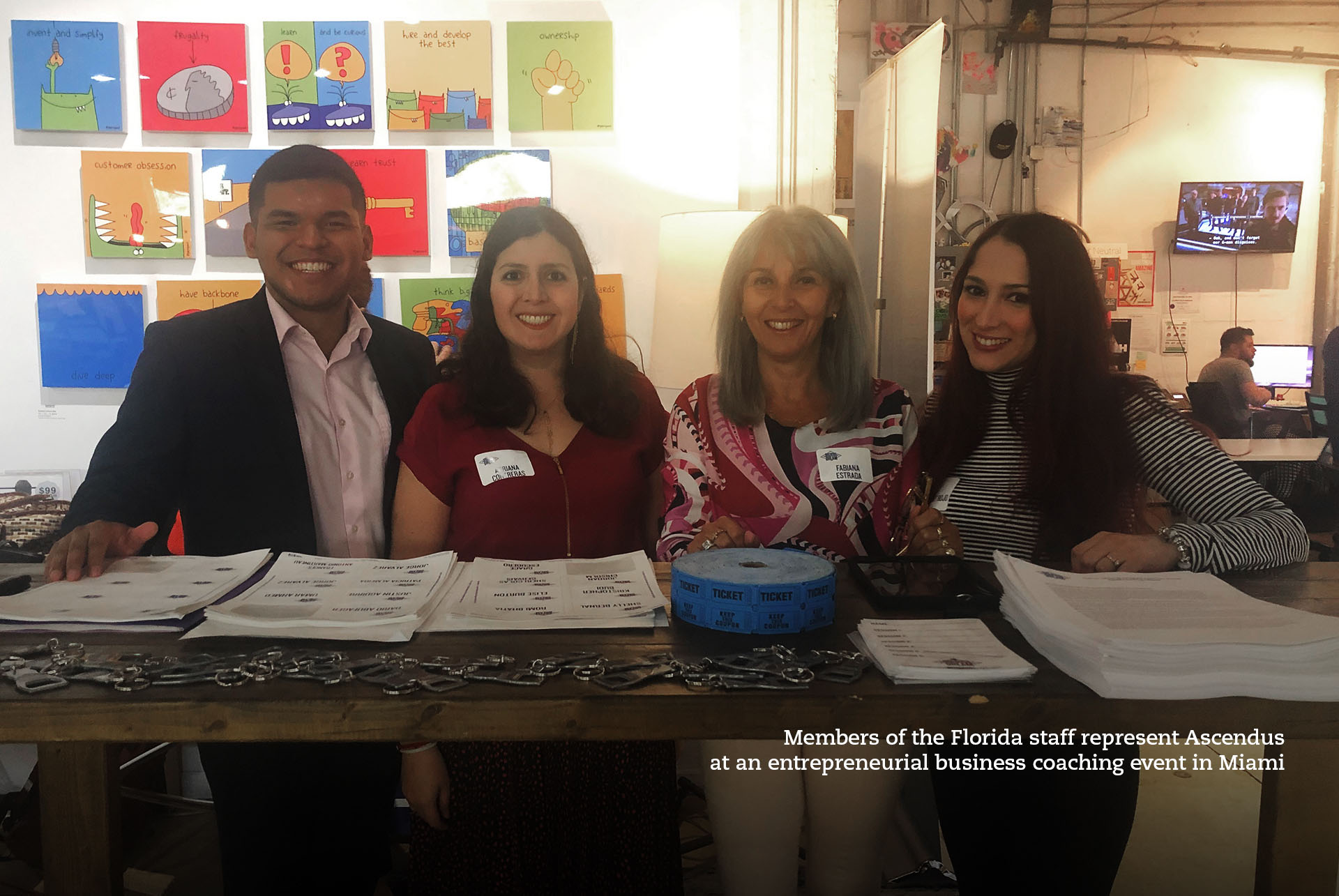 Ascendus celebrated 15 years of serving the Florida community, beginning with the launch of our office in Miami.
Since opening our office, we've provided over $24 million in capital and coaching to 3,200 Florida small business owners.
These Ascendus clients have unlocked employment opportunity for 10,600 residents.
In 2018, we saw our most productive year ever: our Florida program put $3.3 million into the hands of 219 clients.
OUR CLIENTS
In 2018, we served a greater percentage of minorities, immigrants, and women by helping them start, stabilize, and expand their businesses.
65%
of our clients were considered low- to moderate- income
77%
of our clients identified as racial or ethnic minorities (18% growth since 2013)
46%
of our clients were women (13% growth since 2013)
We served small business owners in 41 states from three crucial markets along the East Coast as well as remotely throughout the country.
40%
of our clients were located in New York
23%
of our clients were located in Florida
21%
of our clients were located in New England
16%
of our clients were located in various other states throughout the U.S.
OUR IMPACT
With the help of Ascendus: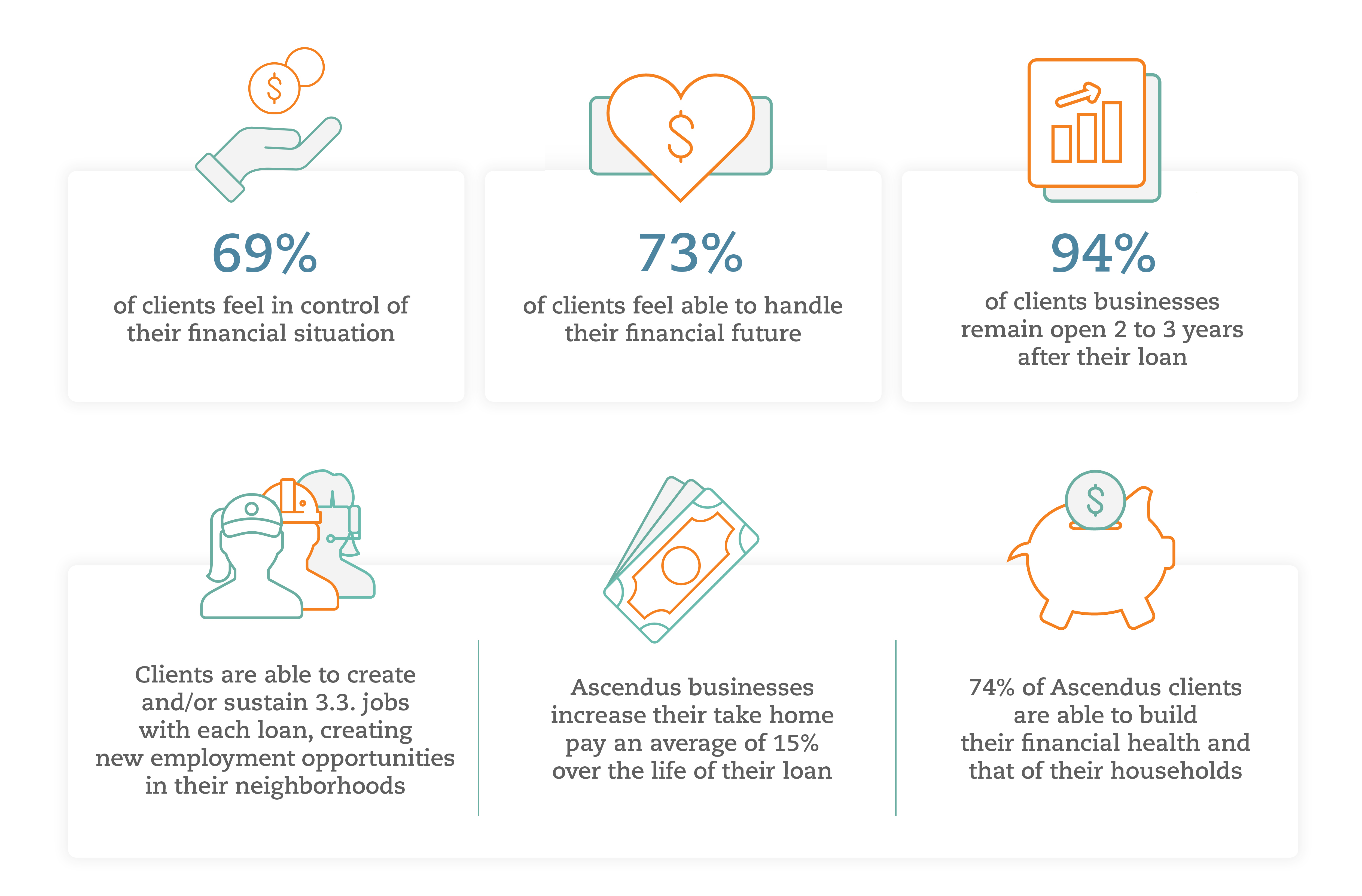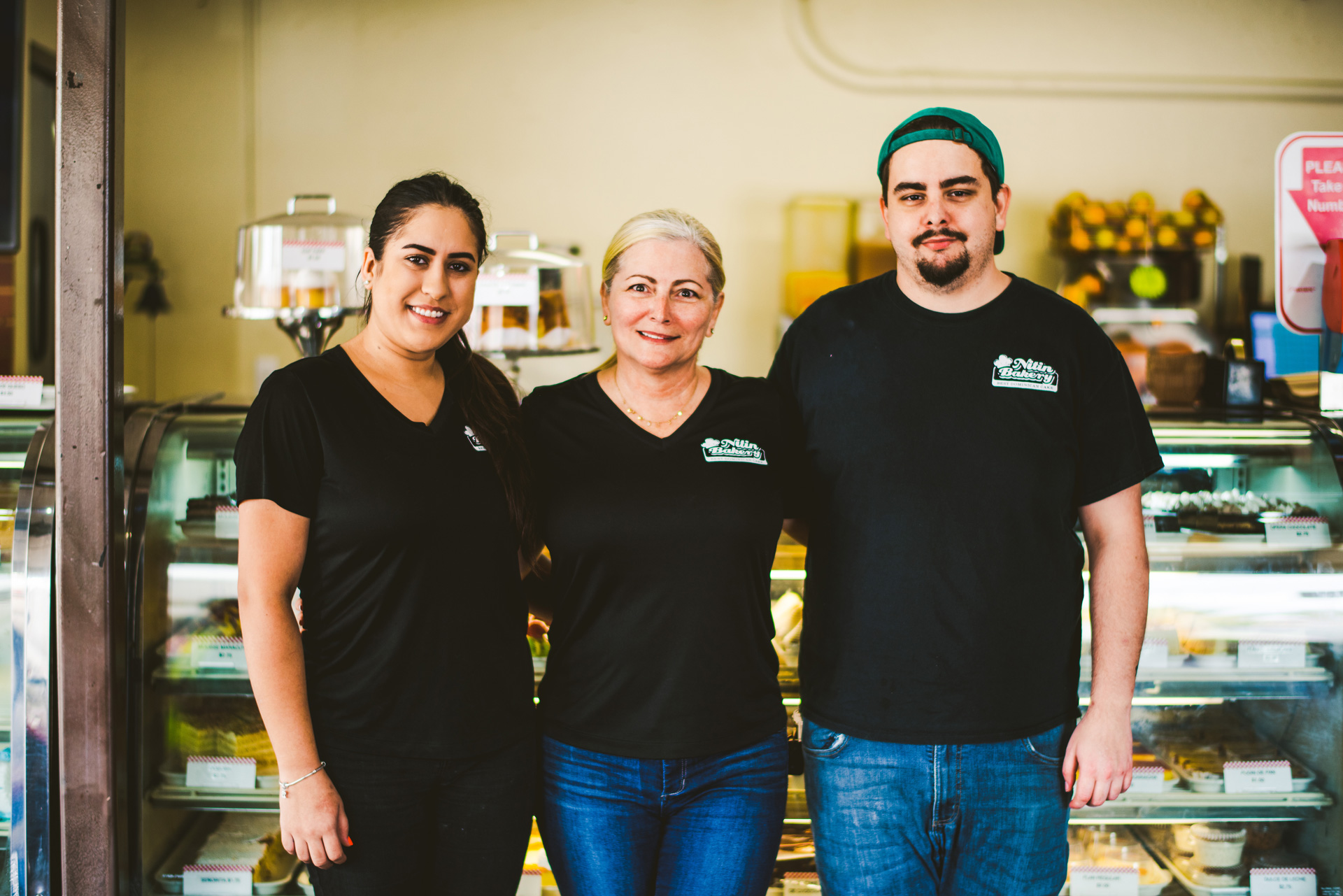 "My employees and I are like a family. They come from all over the world. Having their own business is their dream as well, and I'm able to show them how to do it. When we transitioned to a new location, our loan from Ascendus enabled us to renovate the space. Ascendus believed in us and gave us the opportunity to grow. We now have more space, more people, and more energy."
—Tania Jauregui, Nitin Bakery, Miami, Florida
IT STARTS WITH A STRONG FINANCIAL POSITION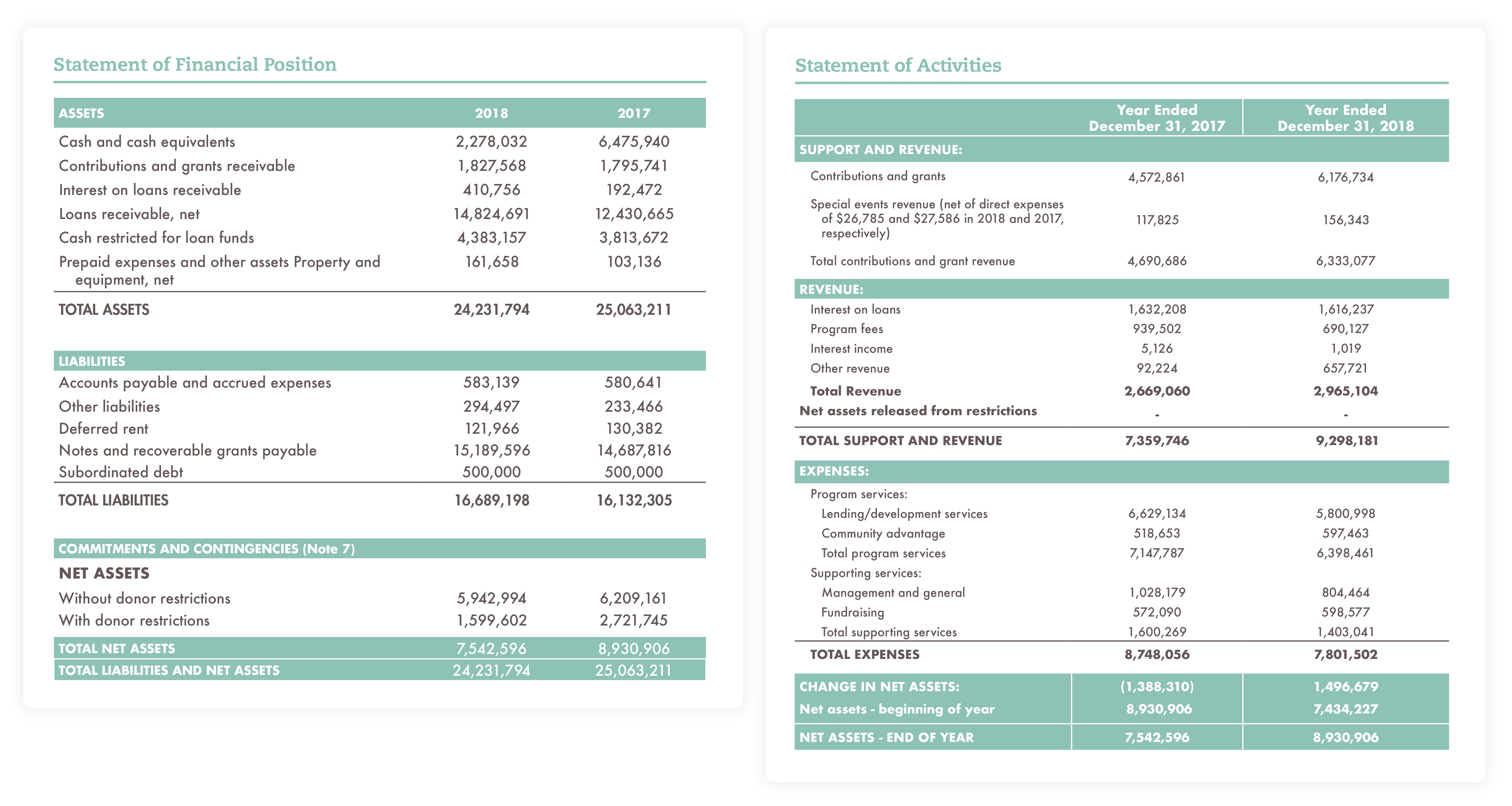 IT STARTS WITH VALUES
Ascendus is guided by six core values that define our mission:

ADAPTABILITY
We are innovators; we continually improve ourselves and our world. We take risks to do so.

DEDICATION
We give 100% at all times. We are committed to Ascendus, our mission and our clients.

EMPATHY
We walk in others' shoes. We know that true understanding must occur at an emotional and intellectual level.


INCLUSION
We create community. We value the contributions of every person.

INTEGRITY
We earn trust by making promises – and keeping them.

PASSION
We are proud about being Ascendusistas; we work to honor our values in everything we do.
2018 DONORS AND PARTNERS
Institutional Partners
$500,00 and above
JPMorgan Chase Foundation
U.S. Small Business Administration
$200,000-$499,999
The Clark Foundation
New York City Council
Santander Bank, N.A.
TD Charitable Foundation
Wells Fargo Foundation
$100,000-$199,999
Bank of America Charitable Foundation
The Boston Beer Company*
Citi
The Coca-Cola Company*
Robin Hood Foundation
$50,000-$99,999
Anonymous
Capital One
Empire State Development
FedEx*
Fifth Third Bank*
Massachusetts Growth Capital Corporation
Morgan Stanley
$25,000-$49,999
Bank United
Bernard F. & Alva B. Gimbel Foundation
Deutsche Bank Americas Foundation
Goldman Sachs UIG
HSBC Bank USA, N.A.
Mizuho USA Foundation, Inc.
TIAA Bank
$10,000-$24,999
Amerant Bank, N.A.
Apple Bank
Bank OZK
Blue Hills Bank Charitable Foundation
BNB Bank
Edward & Ellen Roche Relief Foundation
HAB Bank
The Hartford*
The Miami Foundation
MUFG Foundation
PIMCO Foundation
Sterling National Bank
SunTrust Bank Foundation
$5,000-$9,999
BTQ Financial
Credit Suisse Americas Foundation
City National Bank
First Republic Bank
The Moody's Foundation
People's United Bank Foundation
Popular Foundation
$1,000-$4,999
Bank Leumi
Boston Private Bank & Trust Company
Cambridge Savings Bank
Concord Advisory Group
Eastern Bank Charitable Foundation
Goldman Sachs
New York Community Bank Foundation
Ponce Bank
Signature Bank
*In partnership with the U.S. Ascendus Network
Individual Donors
CEO Circle ($25,000+)
Anonymous
Lynn & Jonah Kaufman
The O'Shea Family Foundation
Innovator ($10,000-$24,999)
Anonymous
The Harman Family Foundation
The Rita J. & Stanley H. Kaplan Family Foundation
Paul & Marieta Quintero
Job Creator ($5,000-$9,999)
Anonymous
Sherman Carll
Peter Cureton
Michael and Claudine Henry
Kimberly Johnson
Laura Miller**
Eva Greger Morse
Moses Kimball Fund
Cheryl Myers & Steve Stockton**
Patrick Peterson & Shirley Tsai
Noel Pittman
Accelerator ($2,500-$4,999)
The Paul & Edith Babson Foundation
Benjamin & Susan Baxt
Anna Dodson
Victoria Felix & John DeWees
Thomas & Susana McDermott
Michael & Anne Marie Mlecko
Joan Morningstar & Timothy Lynes
Ascendusista ($1,000-$2,499)
Alger Candlelight Giving Program
Barbara Brooks
Raschelle Burton
Jeff Cady
Rushil Desai
The Friedman Family Foundation
Michael Friedson
Colleen Galvin
Sudhir Jain
Kristin Kraska
Dennis Lagueux
Mark Meachen
Edith Moricz & Alan Cody
Roshelle Nagar
William Popeleski, Jr.
Lara Porter
Ilya Scheidwasser
Lisa Servon
Vikram Shankar
Cristina Shapiro**
James Shields
Tyler Van Gundy
$500-$999
Jean Aldwell
Michael Carnahan
Rachael Deutsch
Leslie Edwards
Russell & Linde Gee
Jill Goldenberg
Ana Hammock & Jeffrey Isen
Mike Lake**
Henry & Cathy Lanier
Melinda Marbes
Mark McLoughlin
Mia & Stephen Parker
Paul Redstone
Christina Reichert
Anand Savur
Alex Schukin**
Janet & Malcolm Thompson
Matteo Tinari
Nancy Truitt
Diana Waterbury
Penny Weeks
Ashley Wessier & Sherri Lane
Jenny Yescher**
$100-$499
Sean Berry
Shirley Blancke
Pamela Booth
Harold & Cindy Brockman
Colin Bryan
Jane Campbell
Anne Cerami
Rodrigo Cerveira
Robert Chesley
Laura Cofino
Jessica Daniels
Daniel Delehanty
Elenor & Richard Denker
Nicolas Diener
Estelle Disch
Paul Dominguez
Seena Dundes
Paula Easton
Anne Fish
Kevin Fisher
Elizabeth Fleming
Todd Flolo
Adam Grenier
Charlotte Gross
Maria Hermida
Joseph Hernandez
John Hickle
Lydie Hudson
Paul Hunt**
Jim Kiewel
Evan Kramer
Wendy and Steve Lane
Paul Lipsky
Alex Lue
Rosanna Mason
Vidula Menon & Chris Dayer
Robert Moylan
Sarah Mulholland
Amy O'Brien
Christina O'Connell
Christopher Olmstead
Robin Paltis
Mark Pavlin
Michael Perez
Robert Pettit
Kurt Raaflaub
Audrey Rice
Michael Rifkind
Rudy Rodriguez
Erin Rowe
Peter Salas
Clara Sanchez
Karen Schmitt
Risa Sherman
Laura Singer
JJ Singh
Gail Smith
Steve Taylor
Lawrence Turyn
Tyler Van Gundy
Leland Watson
Jerry Weiss
Thomas Wersto
James & Anita Wessier
Aimee White
James Wong
Bernhardt Wruble
Lauren Zollo
**Monthly sustainers
The Janet Thompson Society
Janet Thompson
Faye M. Chandler
The Estate of Chaninah Maschler
The Janet Thompson Society honors and recognizes those loyal supporters who are helping to ensure families have access to the financial tools they need to achieve economic security through planned giving.
Investing Partners
Joel Abrams
Bank of America Community Development Corporation
Richard L. Berman
Boston Impact Initiative
Capital One
City National Bank
Mr. and Mrs. Joseph P. & Patricia K. Crowley
Eastern Bank
Empire State Development
Lynn M. Gerber Trust
Karuna Trust
Audrey Larrimer
Katherine Perls Trust
RBS Citizens Bank
Eric & Hannah Sachs Foundation
Shield-Ayres Foundation
Society of Catholic Medical Missionaries
TD Bank
U.S. Small Business Administration
Jonathan Woodbridge
Woodlands Investment Management-Loring Wolcott
IT STARTS WITH YOU